Mesjid Putera Jaya, Setiu

Perkampungan Putera Jaya, Permaisuri, Setiu, Terengganu adalah sebuah perkampungan moden yang mempunyai ke unitkan nya yang tersendiri. Selain daripada namanya yang istimewa, ia memilki pelbagai kemudah untuk penghuninya. Diantaranya ialah Sekolah Menengah Agama Setiu, Sekolah Rendah Kebangsaan Putera Jaya, Dewan Orang Ramai, masjid, padang bola, bazar perniagaan, Pusat Keluarga Yayasan Pembangunan Keluarga Terengganu, taman permainan kanak-kanak, gelangag tenis, gelangang takraw, gelangang net ball, pusat aktiviti Puteri Islam dan balai raya . Selain daripada itu disini akan dibina Kolej Teknologi Bistari yang bertaraf Universiti. Terletak dipinggir jalan raya utama Kuala Terengganu - Kota Bharu. Lebih kurang 70 KM daripada Kuala Terengganu. Penduduk seramai 1500 0rang terdiri daripada pegawai kerajaan, guru, peniaga dan petani. Kawasan perumahan terdiri daripada Quarters Kerajaan, Perumahan Kos Rendah dan Pusat Perpindahan Banjir, terdapat juga perkampungan tradisional di kawasan ini. Bagi menjamin kesejahteran penduduk di kawasan ini aktiviti KRT ( Kawasan Rukun Tetangga ) Putera Jaya berjalan dengan aktif.


Peta Daerah Setiu
WHAT'S NEW
10/27/99: Which THOR foe is out to get his alter ego Jake Olsen? Who joins WOLVERINE as members of the Ages of APOCALYPSE's FANTASTIC FOUR? All in DANTE'S INFERNO!
10/27/99: Part 2 of our CANNONBALL/ DANI MOONSTAR story!-- the THREADED WEB!
10/24/99: YOUR MAN @ MARVEL locked in the crosshairs of the PUNISHER!
10/21/99: LOU FERRIGNO on THE HULK movie! ... SHOWBIZ!
10/13/99: Preview cover art for Fantastic Four #26, Incredible Hulk #12, Captain Marvel #2, and Avengers: Domination Factor #3! Plus: a brand-spankin'-new Quesada's Quickie -- behind the scenes of the Daredevil #10 cover! All that, and much more in MARVEL TO THE MINUTE!
10/11/99: TAKE A MARVEL CRUISE VACATION... SURVEY! Think you might enjoy taking a cruise with some of your favorite Marvel heroes? Tell us!
08/30/99: Spidey teams up with the White House to fight drugs in the FAST LANE! You can download wallpaper, print a poster and preview an exclusive comic!

COMICS
With Halloween and all its ghouls and goblins, October is a pretty scary month -- almost as scary as how good MARVEL's upcoming comics are! Death terrorizes the X-Men in UNCANNY X-MEN #375 and WOLVERINE #145, the undead rise again for the premiere of BLADE #1, and it's a monster mash when the Thing battles the Hulk in HULK #9! All this and more!

COMIC EVENT: Get the scoop on the New Warriors!
COMICS ON SALE THIS WEEK: -- Peruse the latest batch of Marvel Comics in stores now!
PREVIEWS: Preview these October comics: UNCANNY X-MEN #375, WOLVERINE #145, BLADE #1, HULK #9.
COMMUNITY
Chat with your favorite Marvel pros and visit our Message Boards on America Online! Plus, send us your e-mail and read our FAQ!

Upcoming chats on AOL, Keyword: Marvel!

10/25/99
8pm ET: SPIDER-MAN and THOR Penciler -- JOHN ROMITA, JR.!

10/27/99
7 pm ET: GENERATION X, MUTANT X, X-FORCE, X-MAN, X-MEN UNLIMITED, BISHOP and X-MEN HIDDEN YEARS Editor -- JASON LIEBIG!

10/28/99
8 pm ET: The official EARTH X chat with writer -- JIM KRUEGER!

9:30 pm ET: EARTH's MIGHTIEST CHAT with Writer, KURT BUSIEK and Editor, TOM BREVOORT!
WIN STUFF!
THE FANTASTIC FORUM : Win a Marvel Comic subscription and more!
SWEEPSTAKES : WEBSLINGER-ONE CUSTOM GIBSON GUITAR sweepstakes, the MARVEL MILK MANIACS sweepstakes, WIN A PARTY WITH WOLVERINE, and more!
WINNERS : Are YOU here?
GAMES
THE DANGER ROOM : Play Marvel games inspired by YOUR favorite characters!
FREE ZONE MEMBERSHIP REQUIRED [LOG IN] [SIGN UP]
OVERPOWER : The official OverPower web site!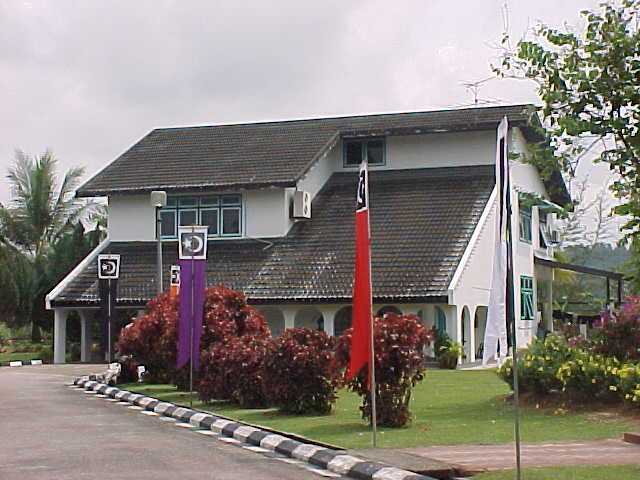 Rumah Pegawai Daerah dan juga akan digunakan sebagai Istana Hinggap semasa keberangkatan DYMM Sultan Terengganu semasa berangkat ke Daerah Setiu. Ianya terletak ditengah-tengah perkampungan putera jaya